Samuel Stewart Witwer was born in Evantson Illinois to a man and a woman who didn't think it through. Raised in a Chicago suburb, little Sam ("Stew" as his friends called him) made noise. Too much noise. Eventually, as he learned to talk, the noise took on the form of words. Subversive words.

As he grew, he discovered that words could convey ideas… and that these ideas were judged "cool" by fellow "Teenie Boppers" if there was music playing underneath. So began his love affair with composition, and the band "Love Plumber" was born. It was a time of plenty. But like all good things, its end was writ.

No sooner had he discovered his identity as a musician was Sam snatched away, Harry Potter-like, to the hallowed halls of "The Juilliard School of Drama." Love Plumber withered and died, and Sam was converted to ways of the "Classical Actor".

But then he got kicked out, so it was all good!

Without a band, and without a job, Sam moved to Los Angeles and has since appeared in dozens of television episodes in various shows including Cold Case, Lyon's Den, Inconceivable, L.A. Dragnet, ER, Dark Angel, Angel, JAG, NCIS, She Spies, and the re-imagined Battlestar Galactica.

The spoils of which were used to create —

An album about ideas.

It's on.



A lot of you are asking, "Should I buy this album? Will it be right for me?" We'd like to help you make this import decision. Here are some things to be aware of, concerning THE CRASHTONES! COLORFUL OF THE STEREO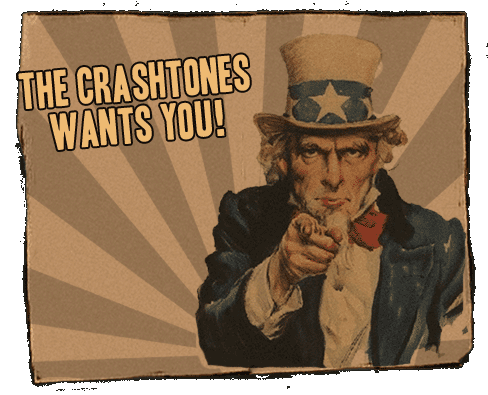 Some of the more astute of our listeners have commented that, what with the busy schedules of Sam, Johnny, Ronnie, Wayde and Sam Tambarillo, it might be difficult for the Crashtones to all get together in ONE PLACE and PLAY for an audience of music lovers.
Some of you are asking, "How can I do my part?"
If you have experience in—
Turntables

Piano/keys

Guitar, Bass (or preferably any combination therein)
THEN THE CRASHTONES WANT YOU!
Email the Crashtones at Jcrashtone@yahoo.com for more info.